ABOUT TJ SYSTEMS(S) PTE LTD
Established in 1996 as one of the leading Total Solution Security Integrators, TJ Systems specializes in a wide array of the most advanced technology, high-end security equipment and systems. The projects we have accomplished over the years set the benchmark for excellence and change how people lead their lives. TJ Systems is committed to play its part by bringing trusted brands into the community making it a safer place, and protecting people and assets.
With its acquisition in 2016 by AEQON Pte Ltd, TJ Systems became the extension arm in the security arena for AEQON. TJ offers an extensive security portfolio of products and services and continuously evolves to meet the ever-changing threats and vulnerabilities. TJ Systems is committed to play its part by bringing trusted brands into the community and making it a safer place, protecting people and assets.
AEQON Pte Ltd
AEQON is an enabler for Southeast Asia's ICT (Information and Communication Technology) and Security industry. It encompasses a myriad of products, technologies and professional services. AEQON is one of the portfolio companies of Exeo Global. Exeo Global is the regional headquarters for Exeo Global Inc,  Japan.
EXEO Global Inc. 
EXEO Global Pte Ltd is an international business arm of Tokyo Stock Exchange-listed EXEO Group, Inc, facilitating the operational and strategic management of overseas subsidiaries for the Group outside of Japan. Its new building, The Pulse, is strategically located in Singapore, and is designed to be an innovation hub, drawing on expertise from its various subsidiaries and partners, to develop novel technology solutions for its clients and partners.
The company's primary business is in Managed IT services and the company currently has subsidiaries in the space of M&E engineering services, ICT infrastructure and supply chain technologies that have operations globally. EXEO Global also continually invests in new businesses and technologies that complement the offerings of the Group's companies.

• To view our comprehensive offerings of AEQON Pte Ltd, Singapore, do visit our website:   www.aeqon.com.sg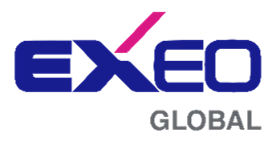 • To understand more about EXEO Global Pte Ltd, please visit our website: http://exeo-global.com/