Introduction
Applying audio and video technology toward improved practicality and functionality is the key to developing information communication systems capable of matching the pace of accelerating progress.
Communicating important information quickly and efficiently is vital in busy public spaces where large numbers of people come and go at a dizzying pace. The innumerable repeated announcements and other types of audio and video guidance used in these spaces, while often taken for granted, are essential in helping people navigate these areas with a minimum of stress and confusion. Further, just as the evolution of powerful networks has freed our communications from conventional concepts of time and distance, dramatic advances in information technology daily expand our message exchange capabilities into increasingly sophisticated new scenarios. Amidst these advances, TOA combines technologies for Seeing, Hearing, and Communicating in unique and original ways to create information communication systems that are ever richer in amenity and convenience.
TOA SX-2000SM System Manager
Introducing a scalable new system for configuring versatile and highly effective PA applications. The SX-2000 Series is in compliance with the EN 54 Standard, and features new matrixing capabilities, so a single system can have its components distributed in different locations, yet under centralized control. Ideal for large-scale installations ranging over multiple buildings as well as local systems, the versatile SX-2000 Series is particularly well-suited for airports and railway stations, factories, shopping malls and large offices.
Versatility is ensured by such features as a dual power source and redundant backups for fail-safe operation, making it a cost-effective solution for virtually any installation, and without long lead times or the expense of a custom system. A fireman's microphone feature is also included, for enhanced effectiveness in an emergency. SX-2000 Series components enable creation of an ideal system for all sorts of application requirements.
   EN 54 Standard-compliant system
---
   Integrated public address and voice alarm
---
   Digital surveillance
---
   Decentralized system capability
   DSP for clear announcements & enjoyable BGM
---
   Four different simultaneous emergency messages
---
   Compliance to SINGAPORE STANDARD SS 546 : 2009 Emergency voice communication systems in buildings (Formerly CP 25)
PC-1867FC Ceiling Mount Speaker
The PC-1867FC Ceiling Mount Speaker features an iron-made dome that prevents the fire from spreading in the ceiling in case of an emergency situation.
The speaker can be easily installed using the speaker mounting spring, and the dome can also be easily mounted in the speaker mounting hole in the ceiling panel.
The PC-1867FC certificated European Standard EN 54-24 and complies with the British Standard BS 5839-8.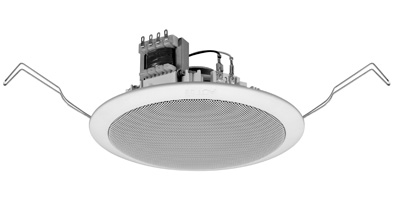 PC-648/658R Ceiling Mount Speaker
Integrated with a resin panel and speaker frame, the PC-648/658R is the ceiling mount speaker with a metal attached.
It features spring clamp mechanism for easy speaker mounting to the ceiling.
The input impedance can be easily changed by changing the tap position of the transformer.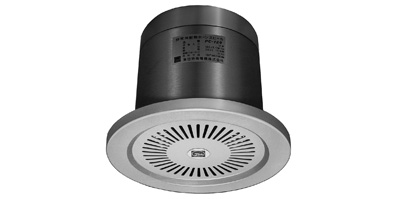 PC-129 Heat-Resistant Ceiling Speaker
The PC-129 speaker is designed to be exclusively used with the voice evacuation system, and features high efficiency and superb heat-resistant capabilities.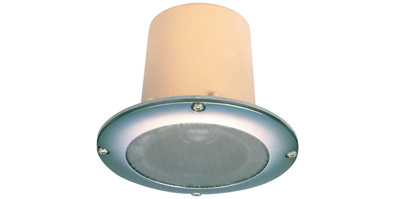 PC-3CL Splashproof/ Cleanroom Ceiling Speaker
The PC-3CL is a completely-sealed, flush-mounted ceiling speaker made up of a high power handling, splash-proof, small full-range speaker employing a plastic film diaphragm. Its chemical-resistant grille makes the speaker ideal for use in clean rooms, hospital operation rooms, and hot and humid locations such as bath rooms and wet sauna rooms.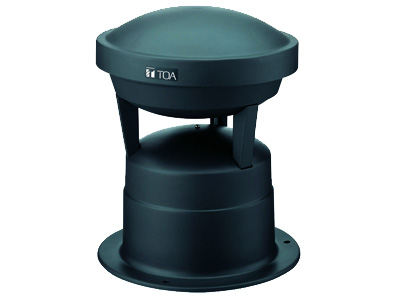 The GS-302 is a compact Garden Speaker ideal for paging and background music broadcast in such places as gardens, theme parks and resort facilities.
Corrosion resistant material is adopted to the speaker exterior, ensuring prolonged use of the speaker in a water-splashed environment.
The appearance of Garden Speaker is designed so inconspicuous that the speaker can be installed in shrubberies of garden blending with the surroundings.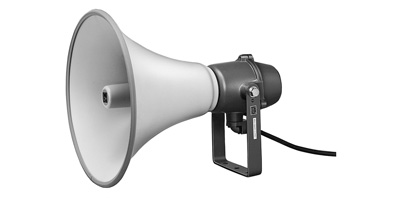 TP-M15E Explosion-Proof Horn Speaker
The TP-M15E Explosion-Proof Speaker provides added safety as to electrical operations, mechanical construction and temperature so as to prevent electrical equipment which do not generate sparks or heat that can ignite an explosive atmosphere under the condition of normal use from generating such sparks and heat.
SC-610 Paging Horn Speaker
The SC-610 is a compact, highly intelligible speaker suited to public address announcement applications. Its external speaker component finished with powder coating, and stainless steel bracket and screws ensure the unit's weatherproof capability.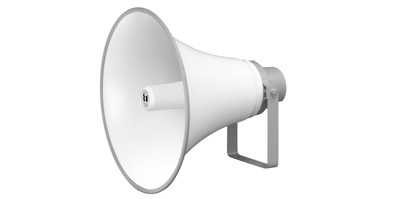 TC-631M Reflex Horn Speaker
The TC-631M is a highly intelligible, general-purpose speaker suited to public address announcement applications. Its external speaker component finished with powder coating, and stainless steel screws ensure the unit's weatherproof capability.