Introduction
NABCO is the world leader in the design, development and manufacture of Total Explosive Containment Vessels. NABCO has been a trusted supplier to the international EOD community since 1980.
Imagine detonating 10 pounds (4.5 kg) of C4 plastic explosive and doing no damage. That's the idea behind NABCO's Total Explosive Containment Vessels.
A complete line of Self-Closing TCVs provides the latest features in the safe handling and detonation of explosive devices and suspect materials. The gas-tight, WMD capability allows for the containment and treatment of potentially hazardous biological and chemical agents.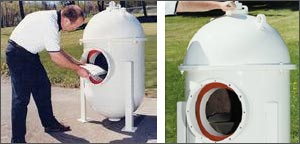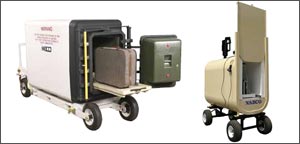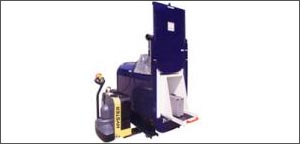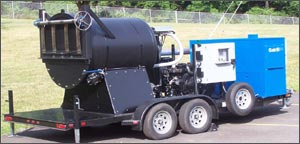 Mobile Thermal Treatment Unit
The NABCO Mobile Thermal Treatment Unit provides an easy, environmentally safe, and affordable way to destroy live ammunition, pyrotechnics, illegal drugs and other confiscated material.
Suspect Luggage Containment Vessel
Designed to quickly and safely contain luggage or packages identified as suspect during screening operations. Ideal for mass transit systems, airports and government buildings.
NABCO Suspect Luggage Containment Vessel
The NABCO Model SLCV-01 Designed for Safe Containment of Suspect Luggage.

The NABCO Suspect Luggage Containment Vessel was designed to quickly and safely contain luggage which may be identified as suspect during screening operations. It provides an affordable way to safely contain the suspect package and distance it from expensive EDS machines until the bomb squad responds.
Since the unit is mobile, it can be pulled outside the terminal so that proper, safe procedures can be performed by the bomb squad away from the terminal resulting in less terminal disruption and evacuations.
The unit was designed to work with all available robotic platforms allowing for remote operation. The compact size of the unit allows it to be easily rolled into standard commercial elevators to reach various levels of the airport.
NABCO's Model PTCV Portable Total Containment Vessel

Designed for one-person ease of operation, this totally portable unit is perfect for explosive screening operations in high profile public facilities, mail screening operations and other high-risk environments. Within 10 seconds, a suspect package can be loaded into the unit and the door secured utilizing the unique SpinSafe design developed by SRI International.
The cylinder-within-a-cylinder unit measures only 55″ high x 33″ wide, with a 13″ access port, and can contain up to 3 lbs. of explosives.
The unit provides additional flexibility for the EOD technician by allowing the entire unit to be removed from a facility and transported to a disposal range for completion of render-safe procedures.
Applications:

   Post Offices Airports
   Embassies
   Government installations and facilities
   Corporate offices
   Sports arenas
Mobility:

The NABCO Portable EOD units can also be fitted with casters or robotic tracks allowing the unit to be easily removed from buildings, airport concourses and arenas.
NABCO Model 64 Self-Closing TCV

The NABCO Model 64-SCS is a Total Containment Vessel equipped with an automatic hydraulic yoke system that allows closure of the vessel in a faster, safer method.