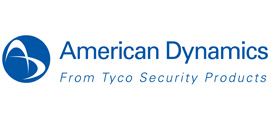 Introduction
American Dynamics is a global name in CCTV Systems. A successful manufacturer of video surveillance used by the private and public sectors all over the world, American Dynamics offers a comprehensive range of quality and dependable products.
American Dynamics produces innovative video surveillance equipment used by the private and public sectors all over the world. Our digital video management systems, matrix switchers, programmable domes, fixed cameras, related software and accessories are installed in a variety of facilities all over the world, from the busiest international airports to your neighborhood convenience store.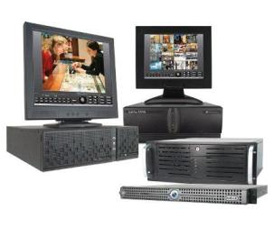 Intellex Digital Video Management Systems
Unique features and an intuitive interface make Intellex the digital video management system of choice. From smaller installations (Intellex LT), mid-size applications (Intellex DVMS), and more demanding applications requiring higher resolution and performance (Intellex Ultra), there is a digital video recorder for any situation. Every platform can be remotely managed using Network Client Remote Management Software, with an added option of password authorization, increasing security on your video surveillance network. With SmartSearch capabilities, simultaneous record and playback, and other sophisticated features, Intellex offers fast, reliable and flexible recording solutions for every size business.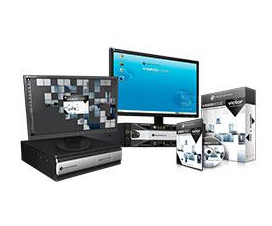 Video Edge Network Video Recorders (NVR)
VideoEdge is a powerful, high-performance NVR video management solution, designed to record and manage video from standard, high-definition and megapixel cameras. Each NVR supports dual-streaming cameras, with the bundled server version supporting a total of 800Mbps of video throughput. VideoEdge enables multiple video streams for live, record, alarm bump, and meta-data collection. VideoEdge utilizes a SUSE Linux operating system. Combined with open system architecture, and robust features such as dynamic bandwidth management and embedded video analytics, VideoEdge NVR is one of the most powerful in the industry.
The unique victor client is a unifier of security, surveillance, and event management. From a single interface, you can leverage VideoEdge's high-performance video streaming, audio, motion meta-data and expansive feature set, allowing you to view and manage all of your VideoEdge NVRs.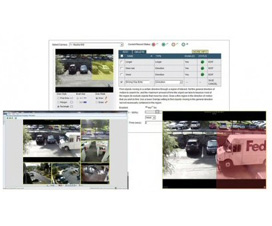 victor Video Intelligence and Analytics

Embedded video analytics and intelligence can greatly improve the efficiency of your security personnel. Real-time analysis of incoming video streams from IP or analog cameras creates post incident alarms and meta-data for extremely fast searches. The victor unified client allows you to manage events and alarms, taking on seconds to run your searches instead of days.
With many systems you are forced to watch the entire video footage in order to get from one search hit to another, but with victor's "jump to next" feature, you easily move from one result to another with the click of a mouse. This is one of the many ways victor saves you time. Real-time alarms inform your security team of any suspicious behavior such as wrong way entry or exit, trip wire, and more. With the victor and VideoEdge combination, you have the ability to better secure your facility by analyzing a variety of activities including object detection, direction, linger, enter/exit and object abandoned or removed… all from one single server.