Introduction
March Networks focuses on delivering intelligent video management solutions that help its customers realize the true business value of networked video. For close to a decade, leading commercial and government organizations worldwide have used its digital video and business analysis applications to reduce losses, mitigate risks, improve security and work more efficiently.
One of the first manufacturers to introduce networked and hybrid surveillance platforms to the market, today its diversified VideoSphere portfolio delivers complete IP video solutions. The VideoSphere product line ranges from megapixel cameras and embedded analytics to Video Management System software running on industry-standard servers.
This end-to-end solution strategy gives its customers the flexibility to deploy all-IP video today, or transition to an open, IP video environment through the selective adoption of advanced technologies. It also supports the common management of both IP and hybrid IP/analog systems across a large-scale enterprise with hundreds, or thousands, of locations.
The company is led by experienced technology and security industry veterans committed to innovation and customer-service excellence. They work with outstanding technology partners and continue to invest in its own R&D activities through two primary centers in Milan, Italy, and Ottawa, Canada, to maintain its reputation as a leading global provider of IP video solutions. March Networks also take pride in its commitment to environmental sustainability.
What's New?
New IP Video Surveillance Products Unveiled!
NEW – MegaPX 360 Indoor Dome
Complete 360° scene capture in 5MP resolution with a single IP camera
   360° and 180° panoramic views with digital PTZ
   5MP resolution
   Bi-directional audio, alarms and switches
   Progressive scan CMOS sensor
   Simultaneous H.264 and M-JPEG compression streams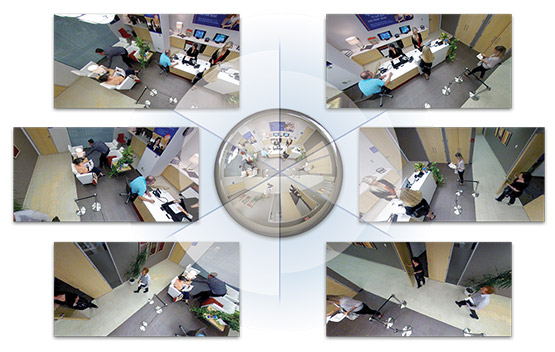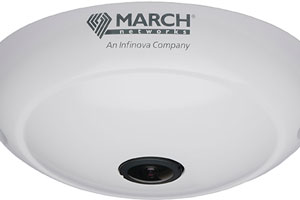 Get complete scene capture in 5MP resolution with a single IP camera. The MegaPX 360 Indoor Dome delivers 360 and 180 degree panoramic overviews of an entire location, eliminating blindspots and reducing the number of cameras you need to install and maintain. Ideal for retail banking branches, convenience stores and other similarly-sized locations, this economical dome also features a digital PTZ that makes it easy to zoom-in and capture multiple views at the same time.
VideoSphere CamPX MicroDome

VideoSphere CamPX fixed IP cameras combine D1 resolution and real-time video delivery with outstanding bandwidth and storage efficiency. These IP cameras provide fully compressed H.264 digital video for unmatched image quality and color reproduction in a variety of lighting conditions. The CamPX MicroDome is the industry's first Wide Dynamic Range (WDR) IP camera able to capture accurate color in near-dark conditions, while the CamPX and CamPX MiniDome IP cameras support a range of optional video analytics.
   Revolutionary color low-light technology with Pixim Seawolf chip
   Wide Dynamic Range (WDR) and True Day Night
   Shadow Archiving with SDHC or NAS
   ONVIF-compliant for open integration with third-party systems
   Multi-streaming H.264, MPEG-4 and M-JPEG (up to 2 streams simultaneously)
   Indoor/outdoor vandal-resistant housing
   Operating temperatures of -40 to 122°F / -40 to 50° C
   Remote zoom with autofocus for easy setup
   3-axis gimbal for one-handed camera positioning
   One housing, two direct mounting options
   Power over Ethernet
   NEW! Three year warranty
VideoSphere® XDome PTZ Cameras

VideoSphere® XDome PTZ Cameras from March Networks® combine high quality video and encoding performance with reliable mechanical design.
These IP-based, pan-tilt-zoom (PTZ) dome cameras provide fully compressed H.264 digital video for unmatched image quality, even in challenging lighting conditions.
All VideoSphere XDomes are easily programmed to provide accurate positioning, multiple presets, guard tours and privacy masking capabilities.
   H.264 / MPEG-4 video compression to reduce storage requirements and maximize bandwidth
   Video resolutions of up to D1 at 30 fps
   True Day Night camera/lens design
   Wide Dynamic Range ability
   PTZ auto tracking of people and vehicles
   Optional support for a range of embedded analytic applications
   Fast and accurate preset acquisition
   Privacy masks to conceal private information
   RTP/RTSP support
   Indoor and Outdoor models
   Outdoor housing designed for use down to -40°F (-40°C)
   Full range of optional NPT mounting accessories
March Network video Management System (VMS)

March Networks Command – our next-generation Video Management System (VMS) software – works with best-in-class IT servers
or our family of hybrid network video recorders (NVRs). It also supports our portfolio of high-definition IP cameras, encoders and embedded video analytics, helping you to transition from traditional CCTV systems to IP video networking cost-effectively and at your own pace. With Command, you benefit from:
   An easy-to-use and highly-customizable browser-based interface
   The flexibility to run on Windows or Mac operating systems
   Innovative Shadow Archiving technology that ensures video is never lost – even when the network goes down
   Scalability – up to 128,000 cameras
Command comes in two versions – each with powerful features, the same user interface, and ability to scale as your organizations grows.
March Networks GURU Smartphone Application

An industry-first smartphone application developed to provide our certified partners with a faster and easier way to access diagnostics and service information in the field using their mobile device.
   Free download for Apple and Android devices
   Check product warranty status
   Check RMA shipment status
   Access video tutorials and a recorder LED utility for troubleshooting support